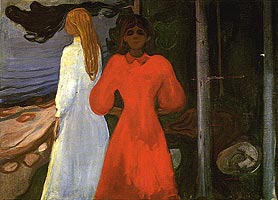 Related Works
Woman in Three Stages
The Women
Young Girl on the Shore

Your Comments
Sydnei Wylder wrote on Mar 30, 2002:
Purity and Passion entwined
Two sustaining facets of love that are most depicted by artists in Munch's era were passion and purity. Those were the two types of love seen, that of God (purity, Virgin Mary etc.) and passion (of the flesh, of the woman etc.). Munch depicts a woman as love... his love is enveloped with passion (red) and purity (white). Without which, most find themselves helpless in love.
Credits
Picture: Edvard Munch: The Frieze of Life.

Red and White, 1894
Oil on canvas
93 x 125 cm