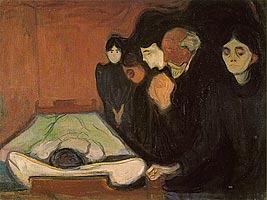 Related Works
By the Deathbed (lithograph)
By the Deathbed (pastel)
The Death Mother and Child
Death in the Sickroom
Your Comments
Silvja wrote on May 1, 2001:

One can see here the deepest sadness in Munch's life. The pale faces, black suites and the room lightened by candle lights. However, they face the truth as the woman in the back is looking at you: death will come for everyone sooner or later.
Credits
Picture: Edvard Munch: The Frieze of Life.

By the Deathbed, 1895
Oil on canvas
90 x 120 cm