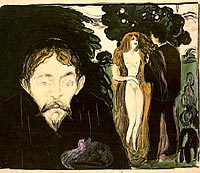 Jealousy, 1896
Lithograph
46.5 x 56.5 cm
Related Works

Your Comments
Wolfram Hempel wrote on May 23, 2001:
Jealousy
This picture is just one of many, Munch painted about jealousy... he was very interested in the experience of these feelings. So he allowed his wife, for example, to stay with other men, just to discover the emotion of jealousy. Another one of his jealousy-pictures, which is located in Frankfurt, Germany, is much more interesting than this! Itęs in a kind of electrifying blue, which you normally would take for showing faith... To understand whatęs the deeper content of these pictures, you have to know about the life of Munch... because the most important question of this picture is... is Munch one of the people in there... maybe the jealous one... maybe itęs his rival, in fighting for a woman's heart, the Polish writer Stanislaw Przybyszewski... but itęs more likely that this is Munch himself because Przybyszewski finally succeeded.
Credits
Picture: Edvard Munch: The Frieze of Life.