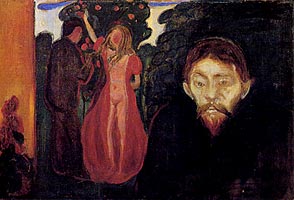 Related Works

Your Comments
Toolek wrote on Aug 24, 2001:
people hurt each other...
Here I am. I am watching You - You know it. With Him You ought to be so much happier than with me -at least that's what I am constantly convincing myself about. It really does take my time and effort. For months I am doing things that are against my feelings - trying to live without You. Yes, I've made you suffer - now I am paying for it.
YES I am jealous, I am counting every minute without You.
Robert wrote on Jul 1, 2001:
I too am this man
How interesting to me that this man looks more depressed than jealous. I see very little anger on his face, merely a feeling of emptiness and longing. Perhaps, like myself, he realizes the girl he loves has another, and will soon be with him forever. Perhaps, like myself, he loves this girl to the point that he is happy that she has found her soulmate, even if it is not him. And yet, he can not help but be haunted by it all, by the thought of what would have been if only a few events in their lives had been just a little different. The thought of how easily he could have been the man who will be embarking on a journey with his beloved will not leave him in peace. Perhaps he is happy for her, but left empty and longing for something unattainable.
Andrea K. wrote on Jun 7, 2001:
Love for one... who is already married
I believe this picture is of his affair of sorts with his painter friend Fritz Thoulow's brother Carl's, wife, Milly. He was the first love of his life, but due to his religious background, he had a hard time dealing with the affair, and was deeply troubled because she was already married and spoken for. I can only speculate, but it shows this female figure wearing an open red dress, which could be considered a seductive color, and she wears it open with no shame. Not only that, she is standing picking fruit with a man (perhaps milly and her husband). To me this reminds me of Adam and Eve, only this Eve is seducing men with the fruit of her body. Only Edvard would know if this is the story behind such a powerful, and emotional piece of artwork.
Elbert Lee wrote on Mar 10, 2001:
I am this man
I am this man, angered at the possibility of further life in you who have turned away from me. Sipping at a bitter draught in a silver flask. There are signs around me, a disturbance in the fabric of things, that seem like the torn lines of a collage. I was of this picture, now see the tears, and now there is only you and the world your lover.
Credits
Picture: Edvard Munch: The Frieze of Life.

Jealousy, 1895
Oil on canvas
67 x 100 cm