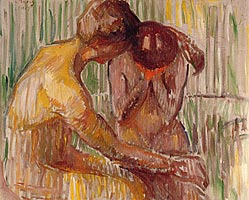 Your Comments
Jordan wrote on Feb 18, 2002:
Nice to cry
I think one of the lasting effects this painting has had on me is seeing that the girl is crying, is being comforted, yet continues to cry. It's almost as though Munch was trying to say that sometimes when the world gets down on you, it's best to just cry, even if someone's there holding you. Like he's saying that you should just let your emotions run free. I'm greatly moved by this piece.
Lisa wrote on Nov 19, 2001:
I Wonder
Seeing this painting leaves me to wonder why the girl is crying. Is it regret, pain, shame, or a combination of the three? Or is it joy and confusion and an uncertainty of what is to come? I think it is a good depiction of, maybe, the loss of innocence and the realization that once lost it is never again attainable.
Tina wrote on Apr 11, 2001:
Comfort
Like all of Munch's work, it is beautifully emotional. You can feel how the girl feels. Although she is being comforted, she still cries. The style of painting which Munch uses often looks like the world seeing through tears. A view many of us see to often. Munch expresses this view so subtly that we forget that we are not crying.
Credits
Picture: Munch und Warnemünde 1907-1908.

Comfort, 1907
Oil on canvas
89 x 108 cm