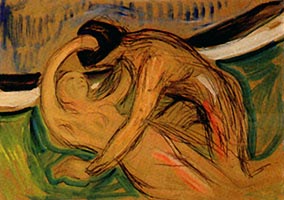 Your Comments
Anonymous wrote on Nov 11, 2003:

I don't think the man in this picture is hesitant. In fact, i think he is just mesmerized by the woman he is with. The entire picture is mesmerizing. She is laying there, humbled down to him, giving herself to him. And she looks extremely comfortable and safe with this man. She loves him. He is amazed by her willingness to be with him, and feels the love overflowing into his body. He just has to stop, and look at her. Because that kind of love and beauty has to be caught in the eyes of the companion. Otherwise it will be missed.

Seana Mickols wrote on Feb 22, 2002:
New fan of Munch
I am a newfound lover of Munch, I discovered him during a class project and I adore him. His paintings reflect the essence of man; mans needs for acceptance of himself and by others. He ties in Maslow's hierarchy of needs to create beautiful art that we all can relate to. This piece strikes me because it is love in its simplicity. Two people who are so in love and they are comfortable with themselves and their bodies. I love the use of the two mediums to create a raw yet beautifully blended piece of work. The figures are raw and not detailed, yet still they are an accurate representation of the human form. It touches me because although I am young, it does relate to love that I feel.
[somebody] wrote on Feb 7, 2002:
Intimacy
What a beautiful depiction of surrender and intimacy. Its amazing how one can capture all the dominance of the stature without being intimidating and threatening. What a pity the colour was never complete... among Munch's many talents was his ability to add raw passion to a painting with his use of colour.
Jacques Taylor wrote on Jan 5, 2002:
Hesitant Surrender
What a powerful display of human communication! She: soft body lines, open body gesture - in surrender. He: hard lined and rigid, very hesitant to submit. Perhaps afraid of love, of himself, of his own fears? This painting expresses Munch's failed life experiences of not connecting/communicating fully to women in his own life! Perhaps the title is a reflection of a desire, rather than the process of courtship that he wants us so dearly to believe. Yet, a powerful and passionate painting revealing more of Munch than we can ever imagine.
Fernando Claro wrote on Dec 21, 2001:
I Hear Music When I Look At This Picture
I imagine her, I imagine that first moment which all things become harmony. I look at Cupido and one feeling of peace through my mind and my body and I believe in the LOVE. What beautiful is love.
Aidan Simms wrote on Dec 20, 2001:
Security
The curved arms of the female subject are representational of the security and stability she is able to offer the male. He is hesitant because should he accept her embrace he would become powerless to his own love for her. He yearns for the spiritual, emotional and physical fusion but fears the spiral into insanity sure to follow if she decides to unlock her embrace.
Credits
Picture: Munch und Warnemünde 1907-1908.